Local tradition says there are 365 islands in Clew Bay, one for each day of the year. The picturesque Clare Island, a mountainous island that's home to just 130 people, watchfully shelters the entrance to the secluded bay and is the biggest of them all.
The Clew Bay area is surrounded by some of the best Blue Flag beaches in Ireland, making it perfect for water sports activities. The views looking out into the Bay are simply breath taking so don't leave home without your camera and some extra memory cards!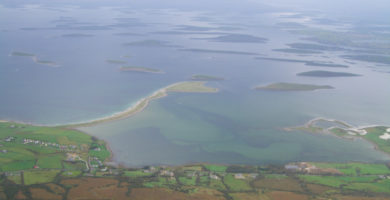 Doo Lough Famine Memorial is a must stop on your trip along the Wild Atlantic Way. It commemorates a difficult time during the Great Famine when starving locals walked this stretch of road from Louisburgh to Delphi Lodge in March 1849.
The reason behind the walk was to get hunger relief but it's said that over 400 locals died on the journey, and this memorial pays a touching tribute to all of those who didn't make it.
Take a closer look at the monument when you get there and you'll see an inscription from Mahatma Ghandi that reads 'How can men feel themselves honoured by the humiliation of their fellow beings?'
Doo Lough (or 'Black Lake') is located between the Sheeffry Hills and Mweelrea Mountain, both of which create a stunning backdrop to this touching memorial.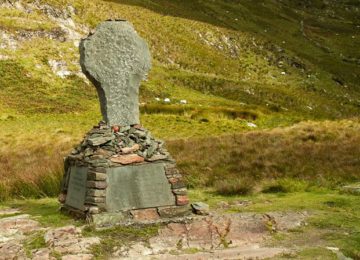 Mayo's third highest peak, Croagh Patrick (pronounced as Croke Patrick) stands at a grand height of 764m or 2,507ft. You might associate the mountain with Ireland's patron saint, Saint Patrick, whom is said to have fasted at the top of it in 441AD for 40 days.
That aside, the mountain offers a great hiking opportunity for visitors to Louisburgh and the most commonly taken route to the top starts right on the Louisburgh Road (R335) at the carpark in Murrisk. From here, visitors can begin the 7km or 4.3 mile long round-trip hike to the summit.
Proper footwear is a must and depending on what season you're visiting in; you'll also need to bring rain gear, wear sturdy boots, lots of clothing layers, sun protection, drinking water and some treats to keep you going. The temperature can be considerably lower and the wind can be fairly strong when you reach the summit so make sure you arrive prepared.
The views from the mountain peak are definitely worth the effort you'll put in to get there.
Note: There's a visitor centre on site with staff that will gladly make you a hot coffee and some good food upon your descent. You can also grab a hot shower in the centre and there are lockers there to keep your valuables safe.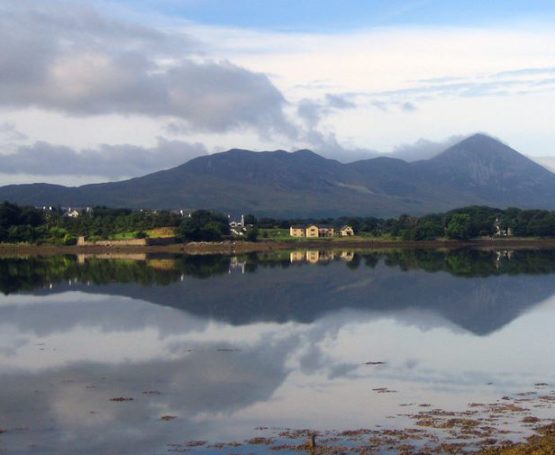 Clare Island is perched 3.5 miles off Irelands' west coast in Co. Mayo.
Home of the legendary pirate queen Grace after Grainne O'Malley (known as  Granuaile) and brought to life in 'The Green and Red of Mayo' chart topping hit from the Saw Doctors, the island is a must see for all visitors to Louisburgh.
It is the biggest island in Clew Bay but with a surface area that measures just 5 miles long by 3 miles wide, it's an idyllic haven that's home to just 160 people. Economic activities include fishing, farming and tourism with lots of other small businesses coming together to create a really vibrant and welcoming community.
What it lacks in size, it makes up for in activities and there are lots of things to see and do on the island. Don't miss Granuaile's Castle, the Heritage Centre, the Lighthouse and the 12th century Cistercian Abbey.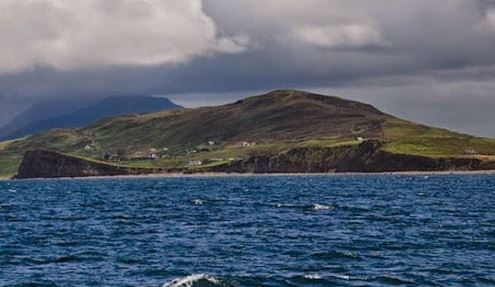 The giant mound of Knockmore and the sloping Knocknaveen dominate Clare Island's silhouette and the views looking out from the bay are picture perfect.
You can catch the ferry from Roonagh Pier to Clare Island and the journey will take approx. 20 minutes. Dolphins and seals are known to accompany the ferry at times so you might just be lucky enough to catch a glimpse of some of the marine locals on route.
Have your camera at the ready!
It's well known that visitors come to Louisburgh to enjoy all kinds of adventurous water sports but what might not be so well known is that the area is also a hub for fishermen.
Rising in the Sheeffry Hills in south Mayo, the Bunowen River flows through peatland before flowing through the town of Louisburgh and entering the sea. And although it is a spate river, its deep pools are home to an abundance of salmon and sea trout.
Things to know about fishing in the Bunowen River:
The average size of salmon is about 5lbs, but 10lbers are caught regularly
Fly fishing is most common but spinning and worm are allowed in some places
Shrimp fishing is prohibited
The average size of sea trout is 0.5lbs
By law, all sea trout must be released alive
Salmon season is April 1st – September 30th
Sea trout season is June 1st – September 30th
Permits are available from Durkan's Gala Shop in Louisburgh